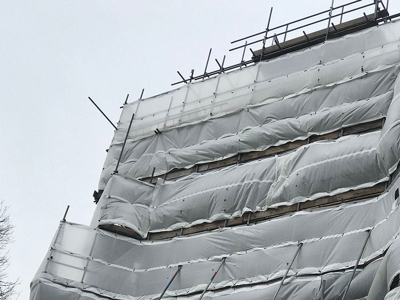 Scaffold Sheeting
Scaffold sheeting offers a protection from the elements to all staff working on scaffolding projects. Supplied off the roll in 45 metre lengths, this sheeting is available in either 2 or 3 metre widths and comes with FREE UK DELIVERY within 48 hours.
Bulk Order Discounts
Please note all orders come with FREE UK DELIVERY regardless of quantities.
Buy 2 for 2% off
Buy 4 for 4% off
Buy 6 for 6% off
Buy 8 for 8% off
Buy 10 for 10% off
For orders of 20 or more please contact us for prices
Economy Sheeting Specifications
Length: 45 Metres
Height: 2 or 3 Metres
Specification: 130GSM
Colours: Clear
Finish: 15mm Eyelet Bands Along The Top The Middle And Along The Bottom Every 10cm
Scaffold sheeting is supplied off the roll without fixings, if you do require fixings please take a look at our eco-friendly bungee cords.
Free UK Delivery
All orders of scaffold sheeting will be delivered within 48 hours to the UK mainland FREE OF CHARGE regardless of quantities.
We are increasingly supplying a large number of European mainland countries with our range of products, if you would like a quote on non-UK mainland delivery please call 0121 308 6441 or email hello@crowdcontrolsolutions.co.uk