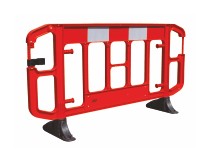 *****Clearance - Only 10 Left*****
Chapter 8 Barriers - Heavy Duty Red Titan
Titan barriers are the original Chapter 8 barrier. Manufactured from a suction moulded high density polyethelylene these barriers offer superb strength and durability. With an easy to assemble, adjustable link clip design enabling straight forward assembly, Titan barriers have been designed with uneven ground at the forefront of the design process. The added hi-vis strip finishes off this Titan barrier leading to them being classed as fully Chapter 8 barrier compliant.
Barrier Branding
As barrier branding specialists we are able to offer you a corporate colour match on Titan barriers (minimum order quantity of 520 barriers) whilst also offering a barrier branding service (no minimum order). Why not brand these barriers with your company name and/or other details to enhance brand awareness and significantly the reduce the likelihood of your barriers going missing, please contact a member of our team for this bespoke specialist service.
Nationwide Delivery
Titan barriers are available with nationwide delivery based on our standard 1-7 working day delivery window. Should you require your barriers as a matter of urgency please contact a member of our team for a quote on 0121 308 6441.
Bulk Order Discounts
Minimum online order of 10 barriers
Buy 40 or more for £30.41 each
Buy 80 or more for £29.47 each
For orders of 120 or more please contact us for prices
Credit Accounts
Credit accounts are available on request, please download and fill in our New Customer Account Form and email the completed form to hello@crowdcontrolsolutions.co.uk to gain an instant decision on a credit account and start trading with us today
Titan Barriers Specifications
Height - 1005mm
Length - 2000mm
Weight - 14.8kg