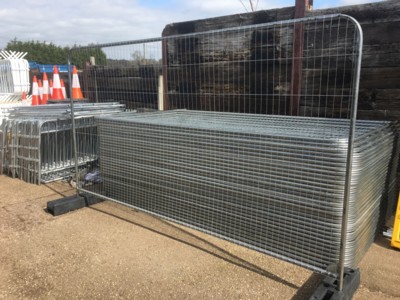 Anti Climb Round Top Fence Panels
Our antil climb, round top temporary fence panels are a virtual identical product in every way to our standard Heras fence panels, the only difference being they are manufactured by a completely independant manufacturer using 36mm outer tude rather than the standard 38mm. Still made in the UK by a leading steel processor, these fence panels represent a real bargain yer will stand the test of time on event the most robust construction site.
Length: 3.5m
Height: 2.01m
Weight: 16kg
Outer Tube: 36mm
Finish: Reinforced bottom corners, galvanised, rounded top corners
Easy to install and maintain and with a reinforced corner bracket, these panels are ideal for use at a wide range of facilities from sporting events to construction sites and are designed to keep your temporary site safe and secure. The mesh infill is designed to allow wind to pass through the panels keeping the fencing sturdy in the most testing of conditions.
Assembled with the aid of couplers and rubber fencing feet (not included) secure your site today for a bargain price.
Delivery Information

Heavy duty temporary fence panels are available with UK wide delivery, if you require fences in London, Leeds or Liverpool we are here to help. Delivery prices vary dependant on location, if you continue to your basket you can receive an instant delivery price. We offer next day, 2-3 working days and within 5 working days delivery options.
We are increasingly supplying a large number of European mainland countries with our range of products, if you would like a quote on non-UK mainland delivery please call 0121 308 6441 or email hello@crowdcontrolsolutions.co.uk
Credit Accounts
Credit accounts are available on request, please download and fill in our New Customer Account Form and email the completed form to hello@crowdcontrolsolutions.co.uk where you will gain an instant decision on a credit account. Start trading with us today!