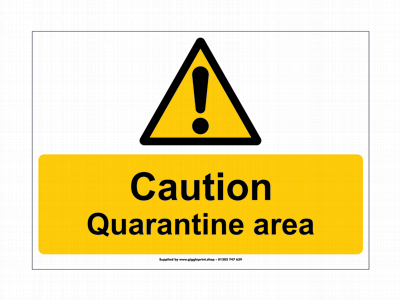 Quarantine Area Sign
Ensure your site, retail outlet, restaurant or cafe is protecting against infection prevention with our quarantine area sign. These full colour UV printed safety signs are single sided and printed onto a 3mm rigid plastic material, making these signs suitable for both indoor and outdoor use.
Colour: Blue
Size: A4 Size signs and A6 stickers
Material: 3mm thick rigid plastic (A4) or high tack vinyl stickers (A6)
Bulk Order Discounts
Order 2 or more for £11.16ea
Order 3 or more for £9.30ea
Order 5 or more for £8.37ea
Order 10 or more for £7.44ea
Order 20 or more for £5.58ea
For orders of 25 or more please contact us for prices
Delivery
All orders of infection prevention signs received by 1pm will be shipped with FREE NEXT WORKING DAY DELIVERY, regardless of quantities, by our overnight parcel carrier Parcelforce. All orders received after 1pm will be delivered within two working days.
Bespoke Printed Infection Prevention Signs
Did you know we also offer a bespoke printing service with a brand matching option for no additional charge. We can print your infection prevention signs to your specific requirements. Why not choose your brand colour, specify your wording and even add your company logo. For a tailor made sign please call 0121 308 6441 or email hello@crowdcontrolsolutions.co.uk