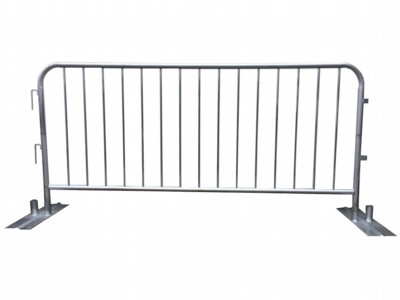 Anti-Trip Crowd Control Barriers
Anti-trip crowd control barriers are commonly used as construction site barriers, event barriers, pedestrian barriers, nightclub barriers and queue barriers where there is a heavy flow of footfall and trip hazards are at the forefront of customers mids. These products can adapt to varying conditions and have numerous uses. Erected in a matter of seconds thanks to our easy to use integrated hook and eye system.
In order to use these barriers as intended you will also require anti-trip feet.
Barrier Specifications
Length: 2.3m
Height: 1.1m
Weight: 11kg
Outer Tube: 38.1mm
Inner Rails: 12.1mm
Finish: Galvanised
Delivery Information

Crowd control barriers are available with UK wide delivery, if you require barriers in London, Leeds or Liverpool we are here to help. Delivery prices vary dependant on location, if you continue to your basket you can receive an instant delivery price. Barriers are usually delivered within 3 working days however please allow up to 7 days due to variances in workloads and vehicle schedules.
Credit Accounts
Credit accounts are available on request, please download and fill in our New Customer Account Form and email the completed form to hello@crowdcontrolsolutions.co.uk where you will gain an instant decision on a credit account. Start trading with us today!
Barrier Branding
As barrier and event branding specialists we are able to offer you the UK's widest range of barrier advertising products at highly competitive prices. Our ability to offer such consumer friendly prices is down to the sheer volume of barrier covers we produce. Quantities and customers vary from 2 barrier covers for long term use at a nightclub to 1000m of barrier scrim for one off use at a triathlon. We can also offer you a corporate colour match with our powder coated crowd control barriers, available in any RAL colour you wish. To discuss the various options available please contact a member of our team who will only be too happy to help.