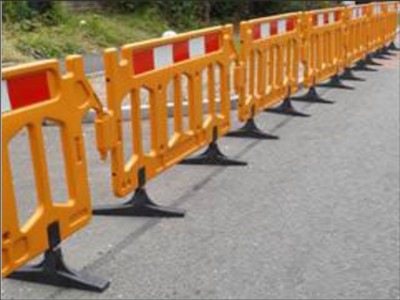 Chapter 8 Barriers - Firmus Range
Firmus barriers are our economy Chapter 8 barriers. Manufactured from a high density polyethelylene these barriers offer a highly affordable, high visibilty addition to any working site. The easy to assemble link pin design enables this range of barriers flexibility for uneven ground such as kerbs and grass verges. The added hi-vis strip finishes off this Firmus barrier leading to them being classed as fully Chapter 8 barrier compliant.
Free UK Delivery
Firmus barriers are available with FREE UK DELIVERY based on our standard 3-7 working day delivery window. Should you require your barriers more urgently than this please contact a member of our team for a quote on 0121 308 6441.
Bulk Order Discounts
Minimum online order of 10 barriers
Buy 20 or more for £27.01 each
Buy 40 or more for £24.25
Buy 80 or more for £23.63
Buy 240 or more for £23.02
Firmus Barriers Specifications
Height - 1075mm
Length - 2035mm
Weight - 12kg

Key Features
Chapter 8 compliant
Universal pin system enabling connection to exisitng barriers
Stackable for ease of transportation and storage
UK manufactured
Other colours available on request