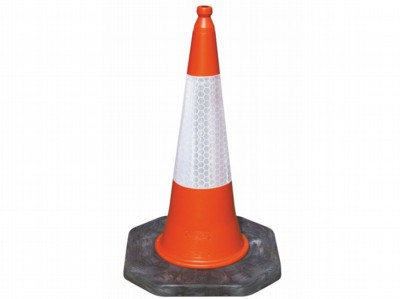 Pallet Offer - 1m Red Dominator Traffic Cones x 100
£730.00
See other Traffic Cones
Pallet Of Red Traffic Cones - 1m Two-Piece Cones

Our largest traffic cone is the 1m dominator cone, 25cm taller than our most popular cone these cones come in particularly handy in premises with high sided vehicles such as construction sites, lorry parks and premises using heavy plant and machinery. With a 2-part construction, black base and red cone and coming complete with a reflective sleeve these are finished to the same industry standard as our 75cm cones.
Cone Branding

All of our traffic cones can be branded for enhanced brand awareness but also to avoid your cones going missing when on site. Our 1m dominator cones can be branded FOC when purchased in multiples of 100. Likewise if you wish to have a custom colour for your cones then these are available when purchased in multiples of 800.
One-Piece Cones vs Two-Piece Cones
We are often asked what are the differences between a one-piece traffic cone and a two-piece traffic cone?
A one-piece cone is completely manufactured from recycled PVC and is finished with high visibility paint, a two piece cone is complete with a base manufactured from recycled PVC whereas the cone is a high visibility plastic
One-piece cones are therfore generally heavier than two-piece cones which is a consideration for many customers when cones are often moved around on a daily basis
If a one-piece cone gets damaged it has to be completely replaced whereas if a two-piece cone gets damaged the base or the cone itself can be replaced independantly from each other
Specifications
Base Width: 595mm
Height: 1.035mmm
Weight: 7kg
Conformity: Complete with Sealbrite class R1B sleeve meeting EN13422.
Material: LDPE moulded cone; 100% recycled composite base
Country of Origin: United Kingdom
Delivery
Please note our 1m high dominator cones are made to order and will be delivered within approximately 10 working days.
Traffic Cone Hire
Did you know we also offer a traffic cone hire service? Ideal for those one off or occasional events where a traffic guide is needed but storage is an issue. All of our hire service prices include delivery and collection by our own drivers on our own vehicles. Why not get an quick quote using our simple online form.