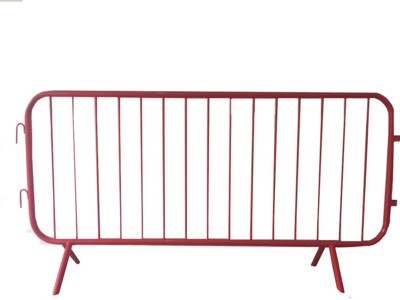 Powder Coated Crowd Control Barriers
Powder coated crowd control barriers are an aesthetically pleasing way of creating a colourful crowd control barrier and enhancing the long term look of your event, queue, pedestrian or site barriers. Our six stock colours are red, white, blue, black, green and yellow however we can powder coat to any RAL colour code you require.
Powder Coated Crowd Control Barriers Specifications
Length: 2.31m
Height: 1.1m
Weight: 10.6kg
Frame Diameter: 38.1mm
Steel Thickness (Frame): 1mm
Feet Diameter: 38.1mm
Steel Thickness (Feet): 1mm
Infill Diameter: 12.1 mm
Steel Thickness (Infill): 0.8mm
Our powder coated crowd control barriers can be erected in a matter of seconds thanks to our easy to use integrated hook and eye system, simply connect to create a colourful and effective safety or queue barrier.
Did you know we also sell crowd barrier covers. Available plain or branded, these offer a unique and highly innovative way of advertising products and services in high footfall areas.
With credit accounts available on request and vehicles travelling nationwide on a daily basis, you can be confident that your crowd control barrier needs will be met by Crowd Control Solutions. If you would like to speak to a human before ordering please call 0121 308 6441. Alternatively you can message hello@crowdcontrolsolutions.co.uk where we will respond to all enquiries within 30 minutes.
View Product Categories