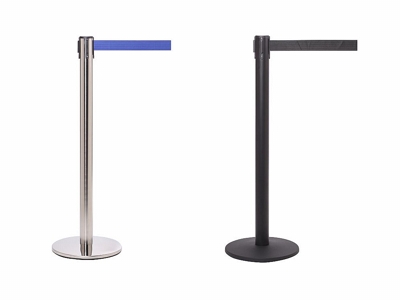 Premium Queue Barriers - With Free Next Day Delivery
The QueuePro belt barrier is a premium queue barrier ideally suited for high end premises such as hotels, airports and corporate events to form an indoor queueing system. These elegant queue stanchions each contain a 3.4m retractable belt, all interconnectable with 4 way connectivity you can change your queueing system to adjust to the fluctuating footfall at any time. The QueuePro barriers are manufactured from heavy gauge steel and a cast iron base. This low profile base reduces any trip hazard and is wheelchair friendly.
****PRE-ORDER AVAILABLE ONLY ON THIS ITEM - UPDATE - DELIVERY OF THIS ITEM WOULD BE MID JULY****
Bulk Order Discounts
Buy 2 or more for 10% off
Buy 4 or more for 12% off
Buy 10 or more for 15% off
Buy 25 or more for 18% off
Buy 50 or more for 20% off
For orders of 100 or more please contact us.
QueuePro Specifications
Webbing Length: 3400mm
Post Height: 1015mm
Post Weight: 10kg
Webbing Colours: Full range of colours and finishes, please see drop down menu above for our most popular finishes, for bespoke and branded printing please contact us with your requirements
Post Colours: Black or polished stainless steel
Product Features: 4 way connectivity and universal belt ends which are compatible with all major brands, belt brake for slow safe belt retraction, belt lock to prevent accidental belt release
3 Year Manufacturers Guarantee
All of our retractable belt queue barriers come with a 3 year guarantee against mechanical malfunction.
Bespoke Branded Queue Barriers
Barrier branding is our speciality, if you require printed webbing with your company logo, or specific colour matches for both posts and webbing then please do get in touch, there is no limit to what we can offer you to give you your perfect queue barrier finish.
Free Next Working Day Delivery
Retractable belt queue barriers are delivered the next working day free of charge for all orders received by 1pm.
We have a wide range of retractable belt barriers for you to choose from to suit any and every budget, for more information before you order our barriers please call 0121 308 6441 or email hello@crowdcontrolsolutions.co.uk where one of our knowledgeable and friendly staff will be happy to help.