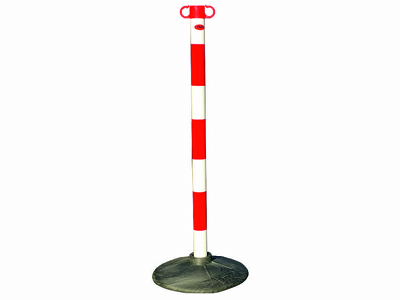 Delivered complete with pre-weighted bases, our UK manufactured freestanding plastic posts are ideal to form a sectioned off area in warehouses, hospitals, reception areas, schools, colleges and car parks. Unlike similar products on the market, our 3.38kg pre-weighted plastic posts do not require filling with sand or water and are delivered to you ready to use. Ideal for both indoor and outdoor use, we believe these products are the most durable plastic posts available in the UK.
Please note, this price is for one plastic post complete with pre-weighted base, plastic chains are available here.
Bulk Order Discounts
Buy 25 or more for £11.86 each
Buy 50 or more for £11.50 each
Buy 75 or more for £11.13 each
Buy 100 or more for £10.76 each
Buy 150 or more for £10.52 each
Specifications
Country of Origin - UK
Plastic Posts - Height: 90cm - Diameter: 4.5cm - Weight: 0.38kg
Recycled PVC Bases - Height: 8.4cm - Diameter: 34.5cm - Weight: 3kg (Approx)
Delivery
For orders placed before 12 noon we offer next day delivery for £22+VAT via our carriage partner Parcelforce. Larger orders will be sent via our pallet partner Palletways and may take up to 72 hours to be delivered.
If you require any further information before you order please call 01213086441 or email hello@crowdcontrolsolutions.co.uk where one of our knowledgeable and friendly staff will be happy to help