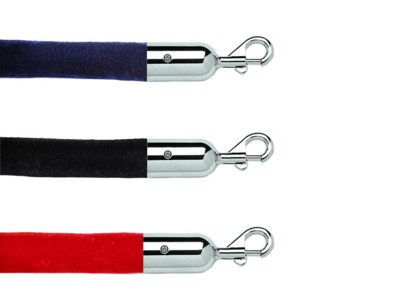 Velour Ropes
Our velour ropes are made from heavy duty cotton which provides a smooth and plush finish to the rope and makes it ideal for use in bars and restaurants, nightclubs, casinos and hotels or any interior establishment who want to create a private VIP area. These classic ropes are stylish yet affordable and are available in 3 different colours with each rope measuring 1.8m in length. Each rope is finished with a chrome or brass snap end to attach to your rope barriers.
Rope Barriers
These ropes are available as a standalone purchase or with our rope barriers. These barriers are available in polished silver steel, brass or black.
Velour Rope Specifications
Rope Length: 1800mm (to give 1500mm spacing between each post, allowing for the drape)
Rope Diameter: 38mm
Rope Colours: Red, black or blue
Product Features: Comes complete with Chrome or Brass Snap end (to attach rope to posts)
Bulk Discounts
Buy 2 or more for £19.01each
Buy 3 or more for £17.86each
Buy 5 or more for £16.95each
Buy 10 or more for £16.49each
Buy 20 or more for £16.03each
Free Next Working Day Delivery
All our barrier ropes are delivered the next working day free of charge for all orders received by 1pm.
We have a wide range of ropes available for you to choose from to suit any and every budget, for more information before you order please call 0121 308 6441 or email hello@crowdcontrolsolutions.co.uk where one of our knowledgeable and friendly staff will be happy to help.