Crowd Barrier Hire
Hire Crowd Control Barriers For Long Term Construction Sites Or For Weekend Only Events - Delivering Throughout The UK
Order From The Crowd Control Barrier Hire Experts Here
Based in Birmingham with an additional hire depot in Slough near London, Crowd Control Solutions are ideally placed to offer great rates on hire requirements in the Midlands, London, South East and all locations in between. We are crowd barrier hire experts specialising in supplying safety barriers for indoors and outdoors sporting events or your new building project. With our central location and with vehicles regularly travelling UK wide we offer long-term barrier hire to construction sites whilst also specialising in short-term hire to events such as triathlons, running and cycle races, charity events and boxing matches.
These are our most popular hire barriers and are what is known as fixed leg crowd control barriers. Easily stacked, stored and transported these barriers can be erected in a matter of seconds thanks to the easy to use hook and eye located on either side of the barriers. These barriers do not require any other accessories or equipment in order to
assemble and are delivered ready to use for immediate deployment.
Dimensions - 2.3m x 1.1m - Weight - 14kg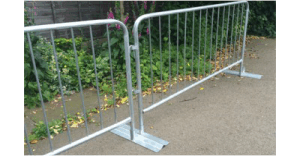 Anti-trip crowd control barriers achieve exactly that, an anti-trip barrier. These are used with health and safety in mind, if you are attempting to create a walkway or queuing area which could potentially see large amounts of pedestrians converge at one time then these safety barriers may be for you. The flat feet on each barrier removes the potential for your guests to trip over the angle feet on the standard crowd control barrier. These safety barriers require setting up prior to use as the feet are delivered detatched from the barriers.
Dimensions - 2.3m x 1.1m - Weight - 12kg
Complement your crowd control barriers with our walkthrough barriers. Coming in red or blue and available with or without a spring loaded gate they make ideal access, entry and exit points for your event or show without having to constantly move your barriers. These interlock with our entire range of hire barriers without the need for other tools or equipment.
Dimensions - 2.3m x 1.1m (Walkthrough access at 2.2m high) - Weight - 14kg/22kg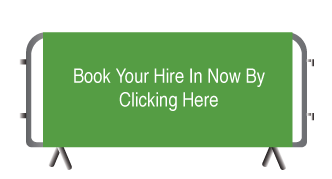 Crowd Barrier Hire Prices

Our barrier hire prices are calculated using a very simple formula:
Total Barriers Required + Hire Location + Length Of Hire Period = Total Hire Price
Following receipt of your hire information we will send you a quote within 30 minutes of the initial enquiry. Alternatively you can fill in our online hire booking form where a member of our team will get back to you with prices.
Crowd Barrier Hire Delivery And Other Information

Whatever your event we are ideally placed to offer you highly competitive rates on UK wide crowd control barrier hire. Our crowd control hire barriers will be delivered to you in a near perfect condition, ready to be used straight away. We never hire damaged, dirty or worn out barriers. Deliveries and collections are carried out by our own drivers using our own vehicles, we do not use third party barriers or transport as to ensure the best services and to retain full control of your hire. All of our delivery drivers are also fully equipped to be able to unload and re-load your hire barriers thus requiring no onsite lifting equipment.
Did You Know We Also Hire And Sell:


Specialist Crowd Control Barrier Hire Services
We understand our customers all have individual requirements, this is why we offer sameday, next day, weekend, out of hours and timed deliveries. Do you require a delivery and collection on the same day in Birmingham? A midnight Saturday collection from Manchester or an 8pm Friday evening delivery into Central London? Whatever you and your clients requirements we will have a service to suit. We are also fully insured for services including installation and break down of your hire barriers with public liability of £2m.
Why not complement your crowd barrier hire with our crowd barrier covers, available printed or plain these are a great way to hide unsightly crowd control barriers whilst enhancing brand awareness in high footfall areas.
We are an independant family run business and are here to help and advise you if necessary. If you wish to discuss your hire barrier needs with a real person why not pick up the phone and call us on 0121 308 6441, where we will be only too happy to offer you our years of joint expertise in the barrier hire market. If you would rather send us an email drop us a line on hello@crowdcontrolsolutions.co.uk

Why not open a credit account? Its quick and easy and all requests will be answered within 60 minutes, allowing you to start trading with us with immediate effect. Simply download, complete and return our customer account form to hello@crowdcontrolsolutions.co.uk and hire your barriers from us today.