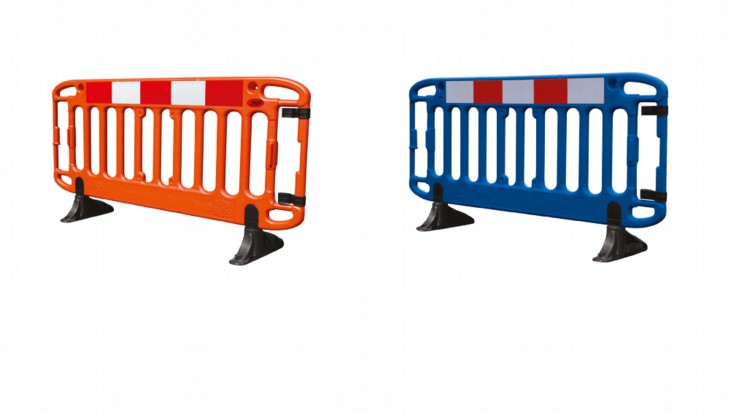 Chapter 8 Plastic Pedestrian Barriers
What Are Chapter 8 Barriers?
Commonly referred to as pedestrian, roadwork or plastic barriers, Chapter 8 barriers are primarily used by road engineers, highway engineers, civil engineers and local authorities to surround roadworks and construction sites. Providing a high visibility safety barrier between the roadworks, the general public and nearby traffic they ensure a safe working site.
Legislation
Safety at Street Works and Road Works' Code of Practice, known in the industry as Chapter 8, or the Red Book, sets out the standard to help you to safely carry out all aspects of street works and road works on all highways and roads to ensure that all street and road works are safe for both operatives and the general public.
This code came into force on the 1st October 2014 and failure to comply is an illegal offence.
It also sets out that when a traffic lane is closed for works to take place, a traffic barrier with a retroreflective red and white barrier sign should be used. Such barriers must conform to British and European Standards (BSEN8442 and BSEN12899-2)
Crowd Control Solutions' range of Chapter 8 barriers are fully compliant with the HSE's directive on protecting the public, ensuring you and your site are operating to the highest standard in terms of both safety and regulations.
Different Styles of Chapter 8 Barriers
There are many different brands of chapter 8 barriers, supplied by many different manufacturers. Here at Crowd Control Solutions, we use Europe's leading independent manufacturer of protective equipment, JSP. Based in Oxford, JSP pride themselves on their commitment to innovation, research and development. See below for some information on our top 2 choices
A blow moulded barrier manufactured from high density polyethylene
Fully reflective panel meeting EN12899-2 requirements.
Easy to assemble and with flexible linking
These barriers are stackable, so make ease of transportation and storage
Stability – This barrier has been designed to be easily deployed on uneven ground/rough terrain and has been tested to ensure wind stability classes within BS8442 are achieved.
Available with an anti-trip feet option to prevent pedestrian/worker accidents
Available in a variety of colours - please email us at hello@crowdcontrolsolutions.co.uk for more info
Made from One-piece suction moulded high density polyethelylene, offering sub-zero temperature and 2 year colour fastness properties
100% metal free and fully recyclable.
Fully reflective panel meeting EN12899-2 requirements.
Made with flexi-coupling clips, enabling the barriers to easily connect together as well as to other brands of Chapter 8 Barriers.
Feet provide excellent surface grip, and with an anti-trip feet option to prevent pedestrian/worker accidents.
Design allows for simple and practical stacking
Durability and Robustness – These barriers have been tested by slowly driving a 4000Kg Fork Lift Truck over them to ensure it does not break, crack or split.
Available in a variety of colours – please email us at hello@crowdcontrolsolutions.co.uk

for more info