Crowd Barrier Covers Choices
We produce thousands of crowd barrier covers on a yearly basis to a wide range of companies throughout the UK and every customer has different needs. Indoor, outdoor, single sided, double sided, long term use, one off event use...the list goes on. We want you to get the right barrier cover, for the right price, first time and every time. Here we look at the pros and cons of each and every crowd barrier cover that we sell.
PVC Crowd Barrier Covers - 330GSM MeshOur best selling and our teams' favourite crowd barrier cover, this option offers a certain level of flexibility. Can be used both indoors and outdoors as can withstand winds of upto 20mph however if your intended use is at a variety of premises and you require to constantly remove, transport and replace the covers then we would recommend the fabric airmesh barrier covers.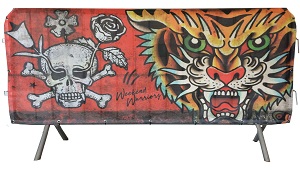 Pros -
Double sided, full individual barrier branding
Indoor and outdoor use
Withstands winds of upto 20mph
High clarity print finish
Cons -
Cannot be folded, not ideal for transportation or storage

Airmesh Crowd Barrier Covers - 115GSM Windflow
Our second most popular crowd barrier cover is the 115GSM airmesh cover. This is mainly suited to outdoor events as the lightweight perforated material allows for gusts of upto 50mph. We are often asked what kind of material this is and the stock answer we use is "like a basketball shirt".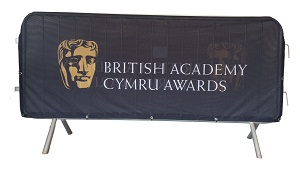 Pros -
Double sided, full individual barrier branding
Best suited to outdoor use as withstands winds of upto 50mph
Ideal for repeated event use
Machine washable material
Cons -
The material can tear more easily when compared to PVC
Offers more transparency
The colours may appear less sharp than PVC covers


PVC Crowd Barrier Covers - 500GSM Banner
Our PVC banner covers offer what we describe as a luxury finish. At 500GSM this material completley blocks out the metal frame and rails sitting behind it, providing an opagueness beyond all of other covers. Bright colours and designs look stunning on this material, offering a depth and clarity beyond all alternatives.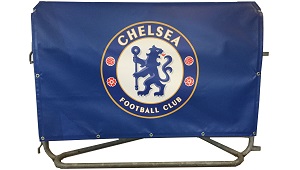 Pros -
Double sided, full individual barrier branding
The highest clarity print finish
Total visual blockout

Cons -
Not suited to windy environments
Cannot be folded, not ideal for transportation or storage

Crowd Barrier Scrim - 115GSM Airmesh, 330GSM PVC Mesh, 500GSM PVC Banner
Our barrier scrim is ideal when requiring single sided barrier branding. Cut to any length required this scrim can be rolled up, stored and reused time and time again.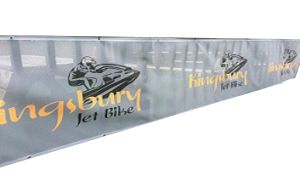 Pros -
Can be rolled up and stored easily
Our mesh scrim allows wind to freely pass through it
Our banner allows total visual blockout

Cons -
Single sided branding only
Offers less flexibilty than individual barrier covers
Poncho Barrier Covers - 330GSM PVC Mesh Or 500GSM PVC Banner
Our poncho barrier covers are our budget friendly option, still offering double sided individual barrier advertising these covers cover most of the barrier leaving just the ends exposed.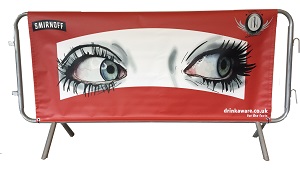 Pros -
Individual, double sided barrier advertising
Budget friendly but high quality finish
Ideal for outdoor use as the wind can pass either side of the covers
Cons -
The ends of each barrier are exposed
Material needs to be rolled up, cannot be folded
We also sell standard barrier banners, these are PVC banners made to measure the internal straight length dimensions of a crowd control barrier.
We are commited to quality products at budget friendly prices and offer a UK price match guarantee on all of our Crowd Barrier Covers. Our friendly team can help you choose the right barrier cover for your particular needs, drop us a line today to see what we can do for you. Call now on 0121 308 6441 or message hello@crowdcontrolsolutions.co.uk.