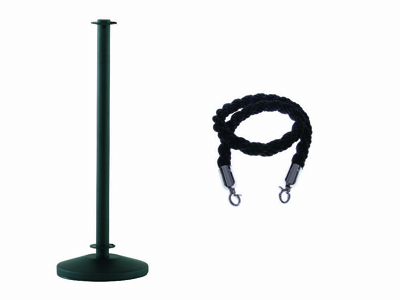 Chrome Or Black Barrier Posts With Rope - 1 Set Will Buy You 6 Posts Complete With 5 Ropes
Our barrier posts and ropes offer an alternative solution to our more popular belt barriers. The affordable yet elegant rope stanchions are interconnectable with 4 way connectivity meaning you can change your rope and post system to adjust to the fluctuating footfall at any time.
VIP Ropes
The black barrier posts come complete with a 1.5m rope with chrome ends, available in red or black.
Black Barrier Post Specifications
Spacing Between Each Post (Using Our Range Of VIP Ropes): 1500mm
Post Height: 990mm
Post Weight: 9kg
Rope Colours: Red or black
Post Colours: Chrome Or Black
Product Features: 4 way connectivity
3 Year Manufacturers Guarantee
All of our rope barriers come with a 3 year guarantee against mechanical malfunction.
Free Next Working Day Delivery
Rope barriers are delivered the next working day free of charge for all orders received by 1pm.
We have a wide range of rope barriers for you to choose from to suit any and every budget, for more information before you order our barriers please call 0121 308 6441 or email hello@crowdcontrolsolutions.co.uk where one of our knowledgeable and friendly staff will be happy to help.