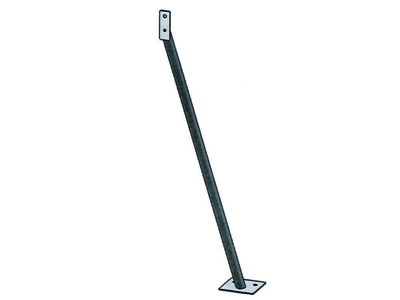 Fence Stabilisers
Otherwise known as struts, our standard fence stabilisers add additional support for your temporary Heras fence panels. Added stability can be introduced by purchasing fence pins to insert through the base plate to go into soft ground or additional feet to act as weighted blocks. All items are stock items, if you require further specialist stabilisation products please contact us for more information.
Length: 988mm (the protruding length when attached to the fences)
Height: 1.485m (total height when attached to the fences)
Weight: 2.5kg
Tube: 38.1mm
Finish: Galvanised
Fence Pins: 438mm x 88mm - 0.45kg
Delivery Information

Fence items are available with UK wide delivery, if you require barriers in London, Leeds or Liverpool we are here to help. Delivery prices vary dependant on location, if you continue to your basket you can receive an instant delivery price. We offer next day, 2-3 working days and within 5 working days delivery options.
We are increasingly supplying a large number of European mainland countries with our range of products, if you would like a quote on non-UK mainland delivery please call 0121 308 6441 or email hello@crowdcontrolsolutions.co.uk
Credit Accounts
Credit accounts are available on request, please download and fill in our New Customer Account Form and email the completed form to hello@crowdcontrolsolutions.co.uk where you will gain an instant decision on a credit account. Start trading with us today!