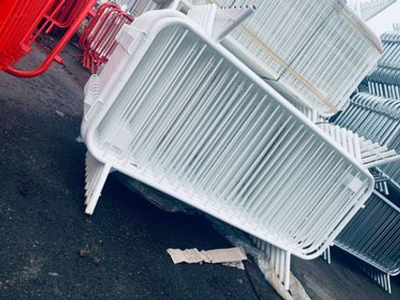 HD Powder Coated Smartweld Barriers
Our heavy-duty smartweld crowd control barriers powder coated to any colour you require. These barriers are longer lasting when compared to standard barriers. Also compatible with all other barriers on the market. We are so confident in the quality of our range of crowd control barriers that we offer full refunds on all barriers if you are not 100% satisfied.
Smartweld Barrier Specifications
Length: 2.3m
Height: 1.1m
Weight: 10.1kg
Outer Tube: 38.1mm
Inner Rails: 12mm (16 in total)
Finish: Powder Coated To Any RAL Colour
Price Promise
As a small, family run business, we pride ourselves not only on our great service but also our unbeatable prices. We work together and have an unrivalled relationship with a local steel manufacture. Due to the nature of this relationship we have managed to obtain the very best deal for our steel purchases. With this relationship firmly in place along with our low overheads, we are able to pass on to you, and all of our loyal customers, some great savings.
What Is Smartweld Technology?
Smartweld technology is an advanced welding system which produces stronger, more durable and longer lasting barriers. Please see the video below to find out more about the production process involved in these barriers:
Delivery Information

Crowd control barriers are available with UK wide delivery, if you require barriers in London, Leeds or Liverpool we are here to help. Delivery prices vary dependant on location, if you continue to your basket you can receive an instant delivery price. We offer delivery within within 5 working days on red and white barriers and within 10 working days on all other colours.
Credit Accounts
Credit accounts are available on request, please download and fill in our New Customer Account Form and email the completed form to hello@crowdcontrolsolutions.co.uk where you will gain an instant decision on a credit account. Start trading with us today!
Barrier Branding
As barrier and event branding specialists we are able to offer you the UK's widest range of barrier advertising products at highly competitive prices. Our ability to offer such consumer friendly prices is down to the sheer volume of barrier covers we produce. Quantities and customers vary from 2 barrier covers for long term use at a nightclub to 1000m of barrier scrim for one off use at a triathlon.