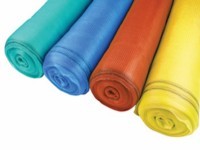 Heras Fence Debris Netting
Heras fence debris netting offers an affordable solution to your temporary fence debris and privacy barrier. Supplied off the roll in 50 metre lengths, this netting sits at 2 metres high to perfectly fit the floor to height measurments of a typical heras fence panel.
We are also a leading UK supplier of heras fence panels which can be utilised as advertising space through our branded fencing material, available in all shapes and sizes they offer great value branding in high footfall areas.
Netting
Length: 50 metres
Height: 2 metres
Specification: 60gsm
Colours: green, blue, white, yellow, black orange, red and black
Finish: Eyelets applied along top and bottom
Cable Ties
Colour: Black
Length: 200mm
Width: 48mm
Delivery
Heras fencing netting ordered before 1pm will be delivered within 24 hours by our UK parcel carrier Parcelforce.