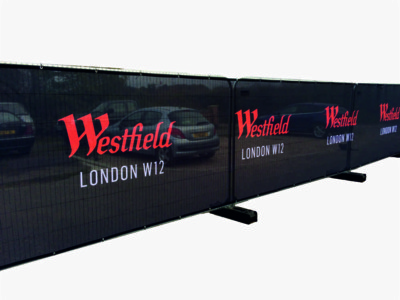 Heras Fence Scrim
Heras fence scrim offers unique temporary and semi-permanent advertising for you site or event heras fence panels. Manufactured to 1.78m high to perfectly sit on the frames of standard heras fences and finished with a reinforced hem and metal eyelets spaced at every 500mm for ease of attachment via cable ties.
We can manufacture to suit your specific fences, however our standard fence scrim is made to the following finish:
Length: Made to measure, usually supplied in individual lenghts of up to 12.5m per length
Height: 1780mm
Material: B1 Fire rated 115GSM fabric airmesh, 205GSM knitted polyester, 330GSM PVC mesh or 500GSM PVC banner
Printing: Full colour single sided
Finish: Reinforced hem, metal eyelets
Bulk Discounts
Printed heras fence scrim comes with bulk order discounts, please contact a member of our team for a quote.
Artwork
If you already have your own artwork please send this to hello@crowdcontrolsolutions.co.uk. We can also create simple artwork free of charge, send us your logo and we can place this on any coloured background whilst adding any additional text or images you require.
Delivery
The vast majority of our heras fence scrim is delivered in 1-7 working days and are sent to you rolled up in a box to avoid any creases or damage. Delivery costs vary dependant on quantity required however as a rule please allow up to £25+VAT for every 35mtrs.
We have a wide range of Heras Fence Branding for you to choose from to suit any and every budget, for more information before you order our covers please call 0121 308 6441 or email hello@crowdcontrolsolutions.co.uk where one of our knowledgeable and friendly staff will be happy to help.
View Product Categories