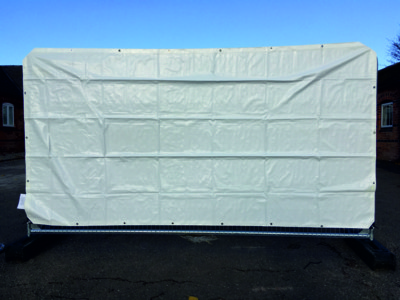 Heras Fence Tarpaulin
Heras fence tarp is designed as an affordbale way of keeping your construction site or event as private as possible. Manufactured to fit the frame of a standard 3.5m x 2m Heras fence, our fence tarp is available in a variety of different finishes and colours.
Length: 3.5m - +/-5%
Height: 1.8m - +/-5%
Weight: Blue 140GSM, White 110GSM, Black 140GSM, Green 140GSM
Material: HDPE tape fabric, LDPE coating
Colours: Black, green, white and blue
Finish: Hemmed with PPE rope, metal eyelets at every 50cm
Bulk Discounts
Please note all quantities come with free UK delivery:
Buy 10 or more for 3% off
Buy 20 or more for 6% off
Buy 30 or more for 9% off
Buy 40 or more for 12% off
Buy 50 or more for 15% off
Either purchased as a standalone product or as a compliment to our printed Heras fence covers and scrim, Heras fence tarp offers amazing value for money. Did you know we also specialise in the sale of Heras fence panels and associated accessories?
Free UK Next Day Delivery
All orders of Heras fence tarp received by 1pm will be shipped to the UK mainland next working day with FREE DELIVERY, regardless of quantities, by our overnight parcel carrier Parcelforce. All orders received after 1pm will be delivered within two working days.
We are increasingly supplying a large number of European mainland countries with our range of products, if you would like a quote on non-UK mainland delivery please call 0121 308 6441 or email hello@crowdcontrolsolutions.co.uk