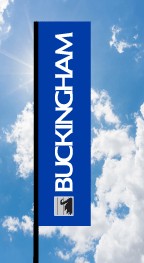 Printed Rectangle Sail Flags

All rectangle sail flags are tailored to suit your individual requirements and are manufactured with ease of transportation, storage and assembly at the forefront of the production process. Prices shown include a full colour print flag, pole, carry bag and optional base.
Rectangle Sail Flags Specifications
Flag Material: 115gsm polyester
Pole Material: Heavy duty aluminium
Printing: Full colour single sided (double sided print available on request)
Total System Height (Including Pole): S-300cm; M-400cm; L-500cm
Set Contents: Flag, pole, carry bag and optional base
How To Order
Option 1: Select your required flags, bases and quantities above, checkout online and send your artwork to artwork@crowdcontrolsolutions.co.uk. From here we will scale your design to size and send you full digital proofs prior to printing.
Option 2: Select your required flag shape and size, download the relevant template below to create your own unique flag. Email us your finished design so we can create the perfect flag for your event.
Option 3: Still not sure? Let us do the work for you! Give us a call or email to discuss this option, most artwork adjustments can be carried out free of charge, all we need is your logo and colour requirements.
Templates
Small Sail Flag
Medium Sail Flag
Large Sail Flag


Bulk Discounts
Buy 5 or more save 10%
Buy 10 or more save 13%
Buy 15 or more save 15%
Buy 25 or more save 20%
Buy 50 or more save 25%
For orders of 100 or more please contact us for a quote
Flag Bases
All advertising flags are available with a range of bases to suit your needs and conditions. Our three main choices are shown below; the metal spike, the drive on base and the plastic fillable base. Please read our blog to help you choose the correct base for your flag use.
Delivery
The vast majority of our flags are delivered within 7 working days however please allow up to 10 working days due to variances in workloads and delivery schedules. If you have an urgent advertising flags requirement please contact a member of our team who will be more than happy to provide with an express service quote. Our standard 7 day turnaround UK delivery cost is £22+VAT whether you order 1 or 100 printed flags.
We have a wide range of Advertising Flags for you to choose from to suit any and every budget, for more information before you order our flags please call 0121 308 6441 or email hello@crowdcontrolsolutions.co.uk where one of our knowledgeable and friendly staff will be happy to help.