Teardrop Flags
Teardrop flags gained their name from their unique tear-like shape. Manufactured from a lightweight 115GSM knitted polyester material, these flags are lightweight yet robust, allowing for the wind to deflect from them whilst remaining in a firm yet flexible position. Whether for one off event use or long term site use, these flags offer flexibility and versatility of design and usage.
What Do I Get With My Teardrop Flag?
Ordering a teardrop flag from us gives you a full colour printed flag complete with flag pole, carry case and an optional base. This set, along with it's enclosed instructions, contains everything you need for immediate deployment.
Please see below for our teardrop flags specifications, bulk order discounts, artwork templates, flag base choices and delivery information. If you do require any further information before your flags then please do give us a call on 0121 308 6441 or email hello@crowdcontrolsolutions.co.uk.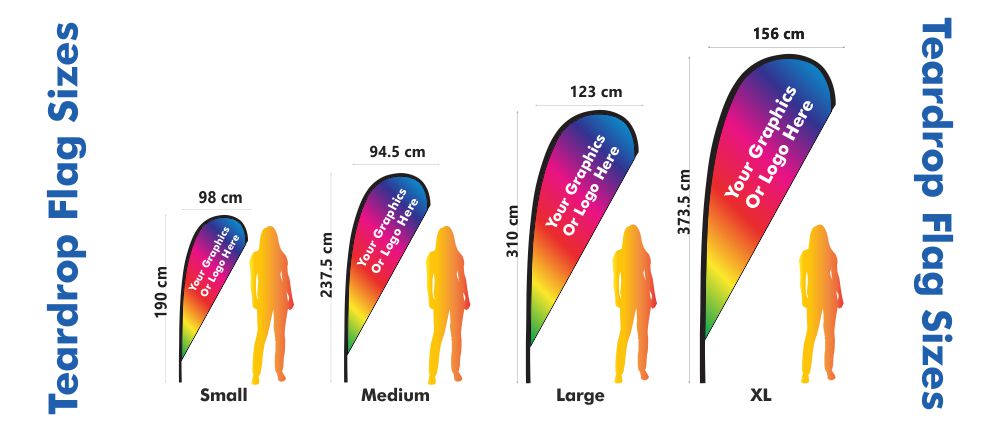 Size: S, M, L or XL
Base: Drive-on, spike or plastic fillable
Flag Material: 115GSM knitted polyester
Pole Material: Bottom section aluminium, top two sections fibre
Printing: Full colour single sided (double sided print available on request)
Set Contents: Flag, pole, carry bag, optional base
Bulk Discounts
All teardrop flags come with bulk order discounts, please see below to see how much you could save:
Buy 5 or more save 10%
Buy 10 or more save 13%
Buy 15 or more save 15%
Buy 25 or more save 20%
Buy 50 or more save 25%
For orders of 100 or more please contact us for a quote
Teardrop Flag Artwork Templates
Small Teardrop Flag
Medium Teardrop Flag
Large Teardrop Flag
X-Large Teardrop Flag
Flag Bases
All advertising flags are available with a range of bases to suit your needs and conditions. Our three main choices are shown below; the metal spike, the drive on base and the plastic fillable base. Please read our blog to help you choose the correct base for your flag use.
Free Delivery
Advertising flags are delivered free of charge in 7 working days, if you require your flags more urgently please contact us for an express turnaround quote.
We have a wide range of Advertising Flags for you to choose from to suit any and every budget, for more information before you order our flags please call 0121 308 6441 or email hello@crowdcontrolsolutions.co.uk where one of our knowledgeable and friendly staff will be happy to help.