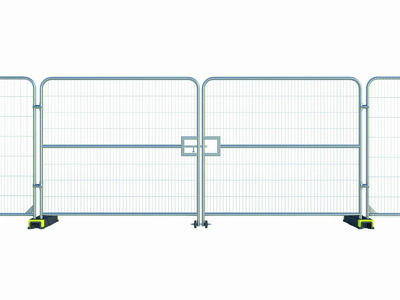 Heras Fence Vehicle Access Gates - Double Gate Supplied
Vehicle access gates for our Heras fences create a easy access and easily managed system of controlling traffic flow into and out of your site. Finished with round top edges and made to exactly the same height as our Heras fences these gates offer a long or short term solution for you vehicle access needs.
Length: 4.261m
Height: 2m
Weight: 34.5kg
Outer Tube: 38.1mm
Finish: Galvanised, complete with bolt and wheels
Delivery Information

Heras fence vehicle access gates are available with UK wide delivery, if you require temporary fences in London, Leeds or Liverpool we are here to help. Delivery prices vary dependant on location, if you continue to your basket you can receive an instant delivery price. We offer next day, 2-3 working days and within 5 working days delivery options.

We are increasingly supplying a large number of European mainland countries with our range of products, if you would like a quote on non-UK mainland delivery please call 0121 308 6441 or email hello@crowdcontrolsolutions.co.uk
Credit Accounts
Credit accounts are available on request, please download and fill in our New Customer Account Form and email the completed form to hello@crowdcontrolsolutions.co.uk where you will gain an instant decision on a credit account. Start trading with us today!