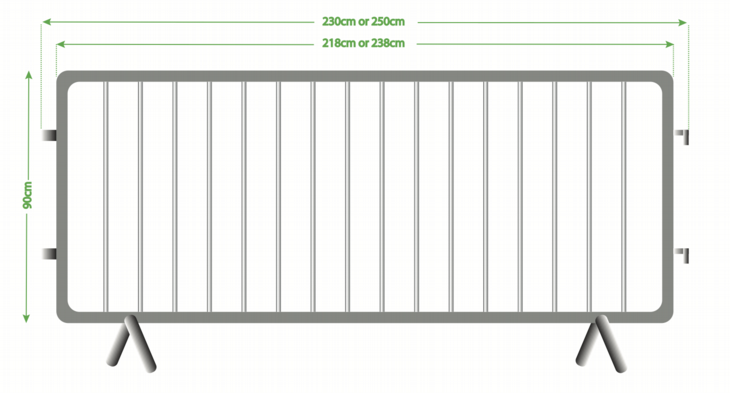 How To Measure For Your Barrier Covers
As a supplier of both crowd control barriers and crowd barrier covers we ensure our covers fit our own barriers perfectly. However what happens if you already have your own barriers and just wish to purchase our crowd barrier covers from us? Are you worried they will not fit your range of barriers? Perhaps you have had a bad experience previously?
We can make crowd barrier covers to all sizes and measurments however most UK manufactured barriers are made to very similar sizes and specifications and there are two main classes of barrier - the 2.3m barrier and the 2.5m barrier.
2.3m Crowd Control Barrier

The 2.3m barrier is by far the most popular crowd control barrier in the UK. Available in both the anti-trip loose leg and the standard fixed leg the barrier frame is the same size for each barrier meaning your barrier cover will be manufactured to identical dimensions.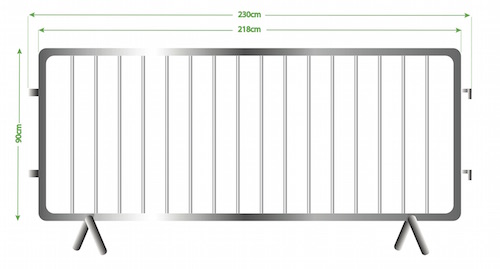 The illustration above shows the dimensions of a standard 2.3m crowd control barrier. The measurements we require to ensure the correct barrier cover is made for you is the frame height and length (shown as 90cm and 218cm in the above diagram).
2.5m Crowd Control Barrier

The 2.5m barrier is less popular but still widely used in the UK. Again this barrier is available in both the anti-trip loose leg and the standard fixed leg.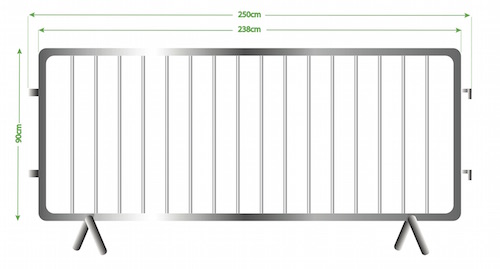 In the above drawing you can see that the barrier frame is the same height as the 2.3m barrier but is 20cm longer. In order to make you barrier covers for this size barrier the measurements we require for this would be 90cm and 238cm.
Whether your crowd control barriers conform to these measurements or not we can make crowd barrier covers to suit your individual barriers. We have a vast range of covers to suit any and all budgets, give us a call today on 0121 308 6441 to discuss your barrier advertising requirements and we will have a solution for your particular needs.
With thousands of successful crowd barrier covers behind us and with some very high profile repeat clients including Premier League football clubs and worldwide car manufacturers our products continue to appear on national television and the big screen leading to peace of mind for you and your clients.