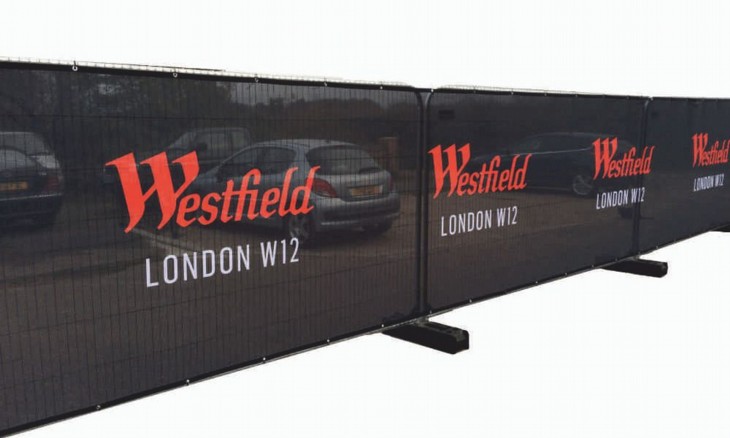 Heras Fence Covers Choices
Heras Fence Covers are products used on temporary construction site and event perimeter fences. These perimeter fences are often called Heras fence panels.
What Are Heras Fence Covers?
Heras fence covers are normally used as a privacy screen for your event or construction site. They are available in a number of different materials and finishes dependant on your individual needs. These are manufactured to fit the frame of a standard Heras fence panel of 3.5m x 2m.
Heras Fence Cover Sizes
Although Heras fence panels are 3.5m x 2m our branded Heras fence covers are manufactured to 3375mm x 1780mm to fit the frame of a standard Heras fence thus avoiding the gaps in between the fences and also avoiding the feet at the bottom of the fence. Our plain Heras fence covers are an off the shelf stock item and manufactured to 3450mm x 1800mm.
Branded Heras Fence Covers Material Choices
Our branded Heras fence covers are available in a variety of different materials however the most popular materials are the flame retardant 330GSM PVC mesh and the 115GSM fabric airmesh (available as standard or flame retardant):
Airmesh 115GSM
Our most popular Heras fence cover is the 115GSM airmesh cover. This is mainly suited to outdoor events as the lightweight perforated material allows for gusts of upto 40mph. We are often asked what kind of material this is and the stock answer we use is "it is like a basketball shirt type material".
PVC Mesh 330GSM
Next is 330GSM PVC Mesh cover. Used at outdoor construction sites as well as events this material is heavier than the airmesh allowing for less windflow however the perforated nature of this material still allows for an amount of air to pass through and is often used at sited where wind is less of a factor or you have stabilisers on your fences.
PVC Banner 500GSM
We also offer a 500GSM PVC Banner material, this material allows for complete visual blockout so is ideal for events or sites that require a high level of privacy. Due to the full blockout afforded by this product no wind will pass through your fences so this material must be used with caution. This material is ideally suited for indoor events, secluded sites with no wind or on sites that have the added advantage of Heras fence stabilisers.
Other Material Choices
Other material choices are available on request such as our 205GSM knitted polyester. This is a luxury material, again allowing for full visual blockout this material is often used at high end events. If you did require a free material sample booklet prior to ordering your Heras fence covers then please email hello@crowdcontrolsolutions.co.uk with your full postal address.
Plain Heras Fence Covers
Did you know we also sell plain, unbranded Heras fence covers. Available in green, black, blue or white these items are in stock and offered with free next day delivery. Often purchased as a standalone product to help hide your event or site from the public, these are also often purchased as an add on to our branded Heras fence covers. Companies often have a branded fence cover, then a plain fence cover, then another branded fence cover etc..... in a step and repeat formation.
Heras Fence Screen
Heras fence screen is a longer run of fence screening. Often referred to as Heras fence scrim this product is available in any length you require (branded) or in plain 50m rolls. The advantage of Heras fence screen over individual covers is this screening covers the gaps between the fences therefore enhancing the privacy of your site.
Heras fence covers and branding is a rapidly increasing marketing tool used by construction companies and event companies worldwide, to see how you could enhance your site please get in touch 0121 308 6441 or email hello@crowdcontrolsolutions.co.uk where one of our friendly staff can talk you through the process.