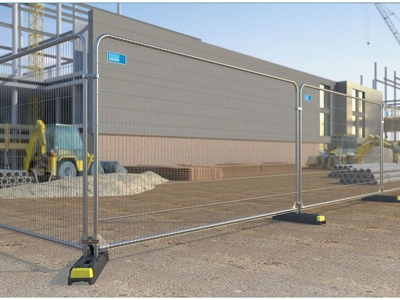 Benefitting from Smartweld Technology, with three sides formed from a continuous length of tube and with reinforced corners we believe that you will not find a sturdier or better value temporary mesh fence panel on the market. Fully compliant with HSG-151, the government's documents on "Protecting the Public", we ensure our products are among the safest around. To fully comply with this guidance you must also include hi-vis feet and anti-tamper couplers with these heavy duty fence panels.

Length: 3.5m
Height: 2m
Weight: 17kg
Outer Tube: 38.1mm
Finish: Reinforced corners, galvanised
Easy to install and maintain and with a reinforced, above industry standard corner bracket, these panels are ideal for use at a wide range of facilities from sporting events to construction sites and are designed to keep your temporary site safe and secure. The mesh infill is designed to allow wind to pass through the panels keeping the fencing sturdy in the most testing of conditions.
Assembled with the aid of couplers and rubber fencing feet and with delivery direct to your site at an affordable price, we believe we have the most complete temporary fence panels available in the UK.