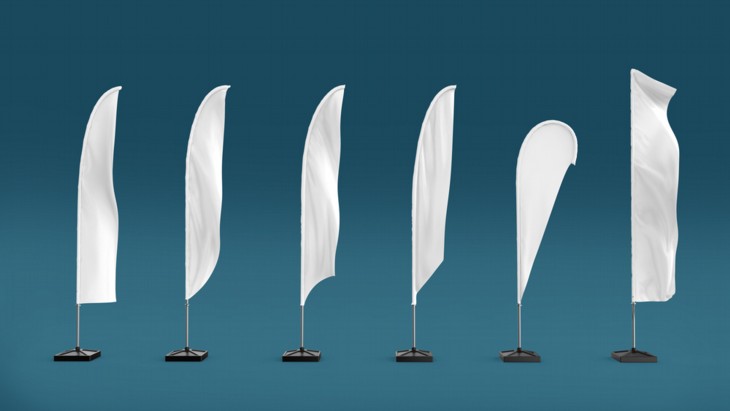 The Benefits of Using Advertising Flags
What are Advertising Flags?

Advertising flags are used as a high-visibility promotional tool for events, businesses and services - they're placed outside, or in an optimal location outside businesses, to advertise business messages or events and offers.
Advertising flags offer a great way to enhance brand awareness in areas that receive high footfall; these custom-made flags offer fantastic temporary advertising, especially for events like farmers markets and stands at events and outdoor locations. You can even use them outside your store, to attract footfall from passers by - the opportunities are endless.
Why use Advertising Flags?

Using advertising flags is the perfect way to get footfall to your business. These flags can feature your unique brand logo, messaging and imagery, so within a mass of people they can be seen from far and wide.
With an easy to assemble system, these flags are printed on polyester material and are finished with a hand sewn hem; the flags also come complete with a flag, pole, optional base and carry bag, meaning you can erect and dismantle your flag in minutes.
With so many awesome features, discover how beneficial using our Advertising Flags can be below.
The benefits of advertising flags
Advertising Flags are customisable
As previously mentioned, advertising flags are completely customisable. With so many brands out there, it's important to make sure your messaging, imagery and slogan are unique to your business, and also catch the eye of passersby.
Crowd Control offer a range of sizes and shapes for advertising flags; Teardrop Shape Flags, Feather Shaped Flags or Rectangular Sail Flags. All of our advertising flags come in four sizes - small, medium, large and extra-large - aside from our Rectangular Sail Flags, which only are available to a size large.
Small flags, such as our Teardrop or Feather Flags are perfect for events with lots of passersby - they are durable, and you're able to place them metres from your store or stand whilst people walk by without causing too much disturbance on the pathway.
Larger flags, such as our Rectangle Sail Flags are ideal for roadside advertising. These larger sizes are best to create attention from afar, so if someone is driving past on a busy road or street, they'll be able to see your advertising flag and its brand advertisement and decide to pull up and discover your products or services.
With a range of customisable options, sizes and printing, your advertising flag can be created to your exact specifications and needs - therefore promoting your business in the most efficient way possible.
Putting them together is easy
So many types of outdoor advertising can be difficult to construct - like large signs, banners and billboards - because they often require extra hands, tools or even third party providers if you're constructing something like a billboard advertisement.
However, with advertising flags, it couldn't be easier. When you purchase an advertising flag from Crowd Control it comes with all the pieces you need to easily construct and dismantle your flag. With the flag itself, pole, optional base and carry bag, you have everything you need to hoist up your sign in a matter of moments, without the stress and hassle of other advertising methods.
Not only this, but in saving you time with the construction of your advertising for the day also gives you more time to get more business in. With an easy-to-construct advertising flag, you're able to spend precious time making sure everything is set up for the day and you're able to maximise your sales - rather than spending 30 minutes nailing up your advertising banners and signs.
They're a cheap advertising option
Advertising your business can cost you a lot of money - especially if you're looking at digital advertising on television, social channels and paid advertising - the costs quickly add up. Therefore it's essential to save costs where you can - and what a better way to save costs than with cheap, efficient advertising.
With a one-off cost of under £200*, our advertising flags are the perfect investment for your business. Without the hassle of ongoing costs, advertising space or ad creation, advertising flags are the perfect one-time cost for your business events and offers.
With our customisable flags, you're also able to advertise your sales and promotions, without paying over the odds for advertising your sales. Just pop up your advertising flag, and let the customers come rolling in. It's that easy.
You can choose an optimal location
A lot of businesses face the problem of the lack of horizontal space to use outdoor advertising effectively - especially if you're running a market stall or outdoor event, space can be limited. However, with advertising flags utilising vertical space, you can effectively advertise your business in only a few feet of space.
This is a perfect solution for a busy, crowded space, where you can place your advertising flag in the ideal location without disrupting anyone or getting in the way of other businesses. Feather Flags are also ideal in this scenario, as businesses can be difficult to locate in busy crowds - however, with an Advertising Feather Flag, customers can easily spot you, and you can draw attention to your location.
Portability is easy
Advertising roadside has never been easier, than with Advertising Flags. The portability of our flags makes it easy for you to simply assemble your flag, and place it in the most convenient location for you and your business.
Despite being lightweight and easily portable, our flags also are windproof and are weather-resistant, so you don't have to worry about a little patch of rain ruining your day. Due to their portability, they're easy to move to another location during your day, depending on whether you're at a market, at your place of work or roadside.
Being roadside, you can notice traffic patterns and other factors that may compel you to move your advertising flag elsewhere to draw more footfall to your business. Yet due to their durable and portable nature, getting them into a prime spot is a piece of cake.
Lots of people will view your advertising
Finally, the use of advertising flags really is the best way to get people's eyes on your brand - if you've got your flag in the optimum position, so many people driving and walking past will see your brand, and remember you.
Even if people don't 'take notice' of your advertising, if you've got clever branding and a catchy slogan, people are going to subconsciously remember you. This means that when they do require your products or services, you'll be in the back of their mind, when they try and think of the advertising flag they saw of your business.
Shop our range of advertising flags online here, and get your business noticed.
*based on an large sized rectangular flag, including a 20kg flat base.